Insipider
Volume 2 Scott, Susan, and Stuart Bentley – 2039 St. Peters Road, Pottstown, PA 19465 December 1998
In January, we started our most heavily Disney year yet (even topping 1997) by "institutionalizing" Susan with a trip to the Disney Institute in Orlando. She worked with two of the Disney animators to learn the basics of animation and cel painting, and got a bit of a sneak peek "behind the scenes" at EPCOT.

Early in the year, Scott's hangar construction was finished and his Kolb Mark III moved in. This picture was taken with an Olympus D500L, a new digital camera Scott purchased as it has an optical zoom that is good for aerial photography. The picture was taken from our bucket truck.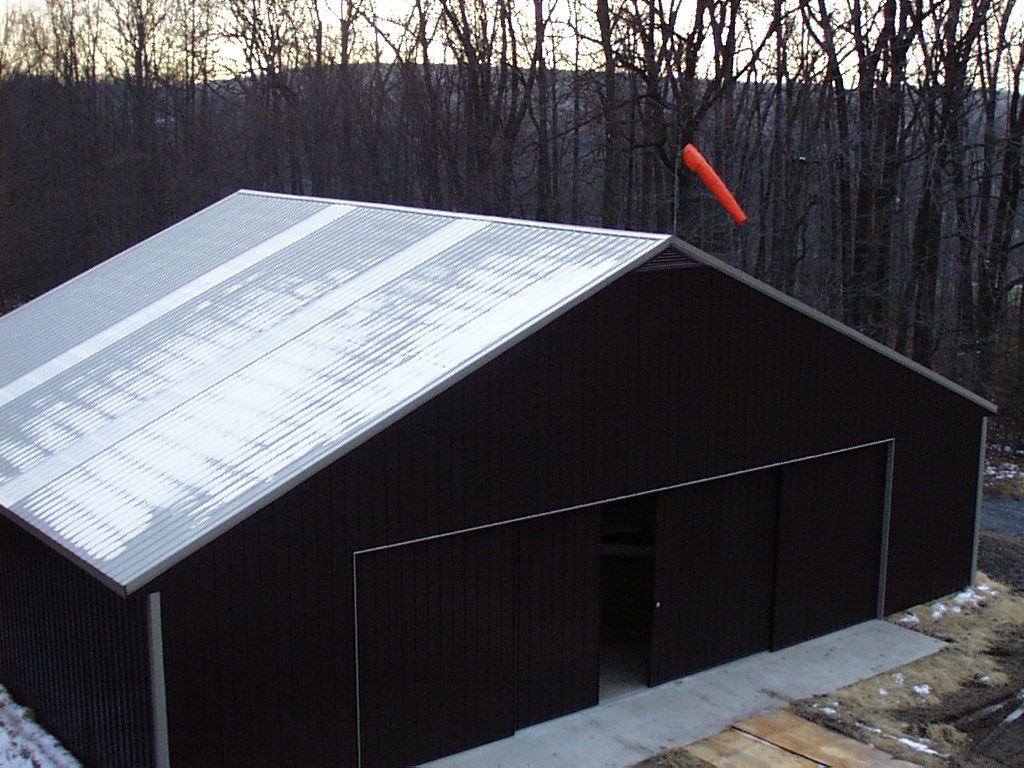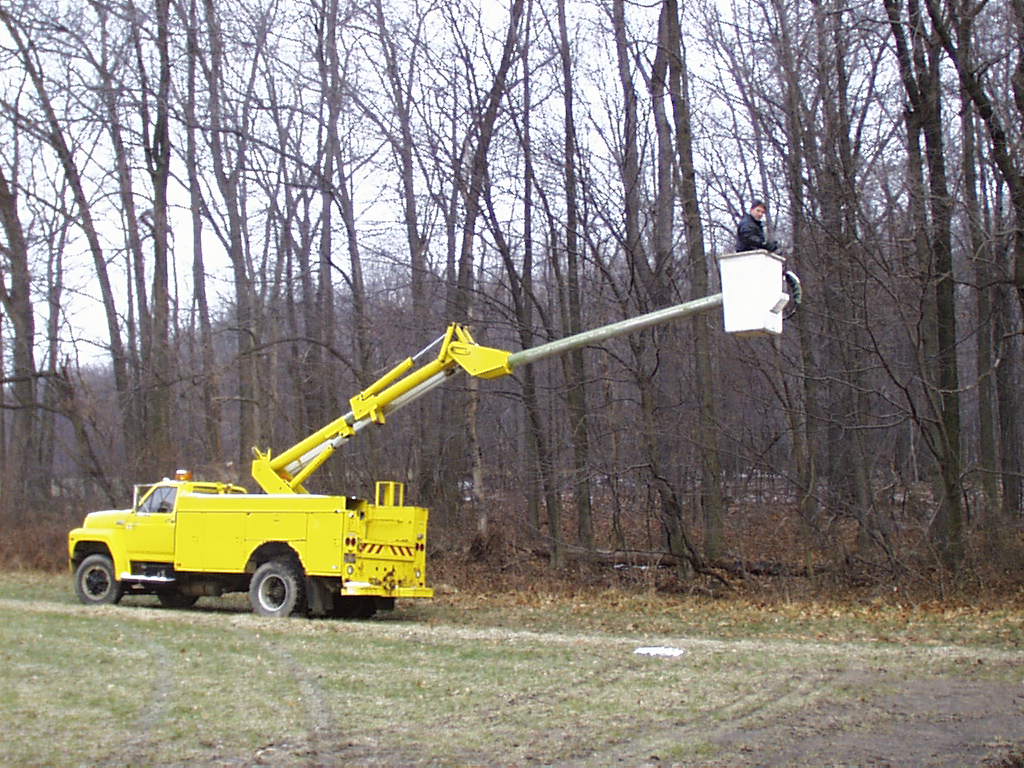 In February, we watched the "Thomas P. Bentley" building rise in the Bentley Systems campus in Exton: :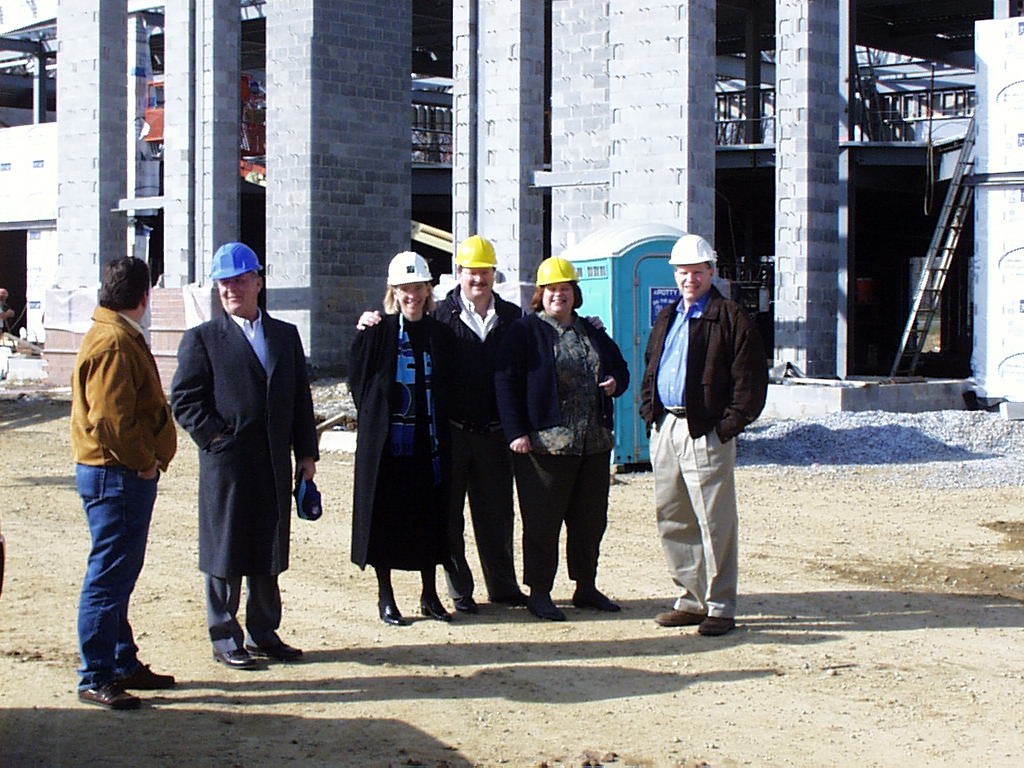 In March, the three of us took a trip to the Atlantis resort in the Bahamas, which was still under construction. There was a spectacular pool and three-level slide through lush tropical landscaping and dramatic waterfalls.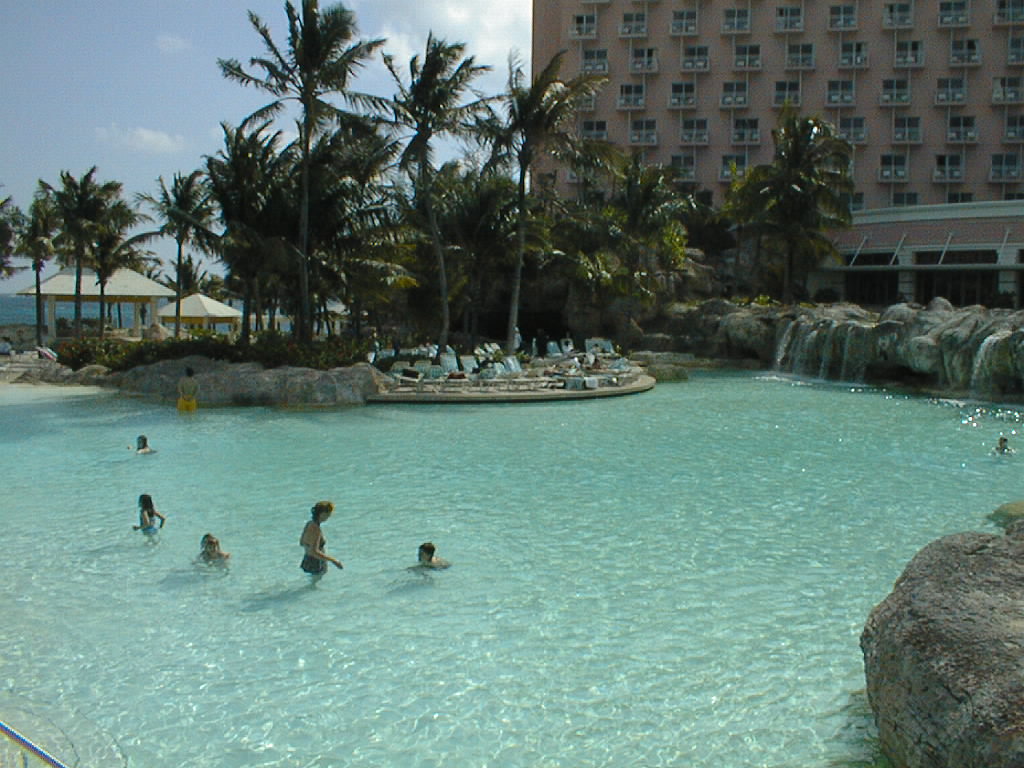 Highlights included underground passageways through the pools and lagoons stocked with colorful tropical fish, sharks, rays, and other aquatic life. The buildings are right out of a fantasy, with enormous seashells, gorgeous murals, and everything decorated with the colors of the sea.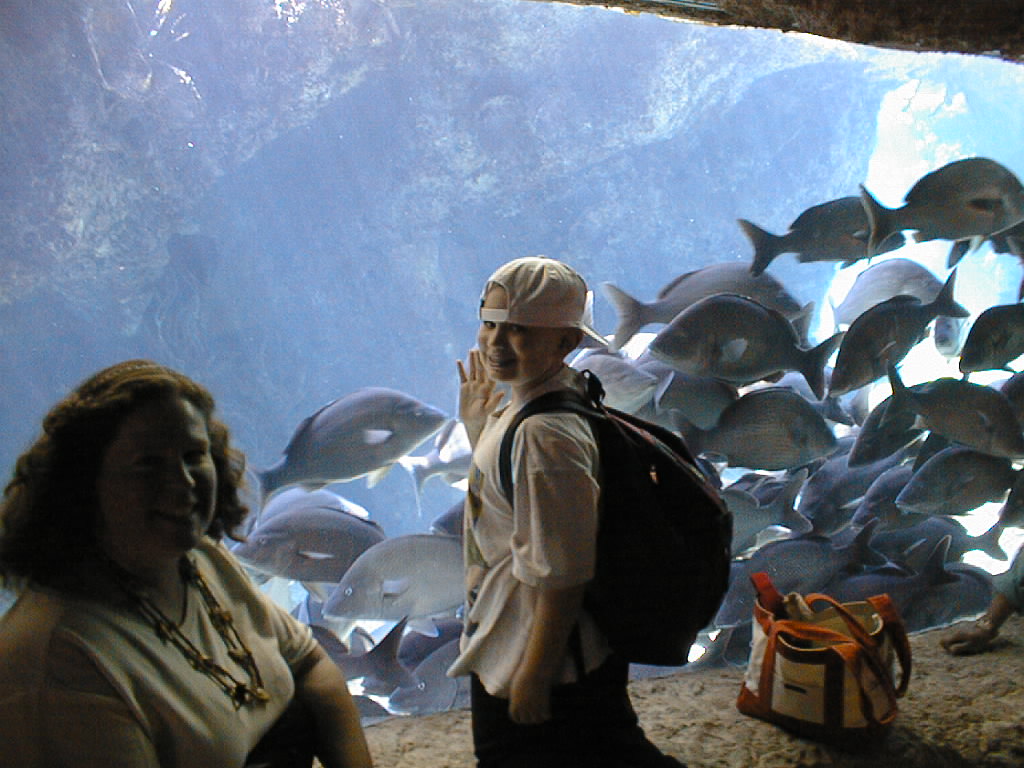 In April, Susan and Scott went to Florida. While Scott went to the "Sun-n-Fun" fly-in in Lakeland, Susan scouted the newly opened Animal Kingdom at Disneyworld.
The safari at the Animal Kingdom was similar, in some ways, to the real one that we had done in South Africa in 1993.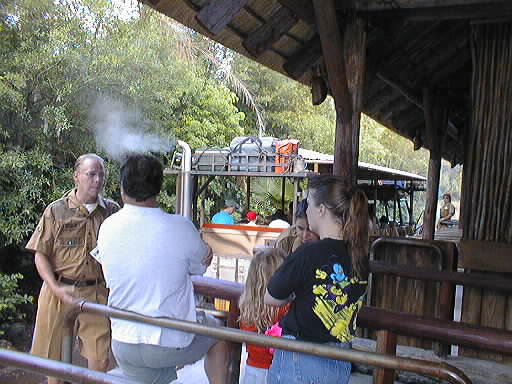 We also enjoyed the "4-D" movie – "Its Tough to be a Bug" and the "Countdown to Extinction" ride.

In May, we flew back to Nantucket with Bob Christ ("Pilot Bob" ), his girlfriend-now-fiancee Karen Dysart, and our friends Peter and Susan Schultz and their children Christopher and Katie. While there, everyone but Susan B. took a cool speedboat ride around the island.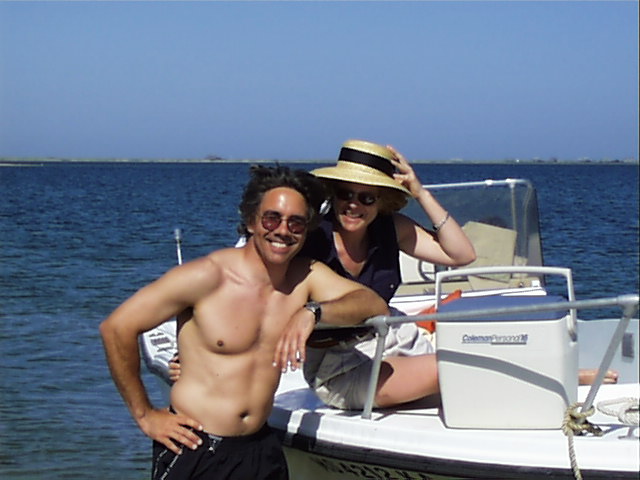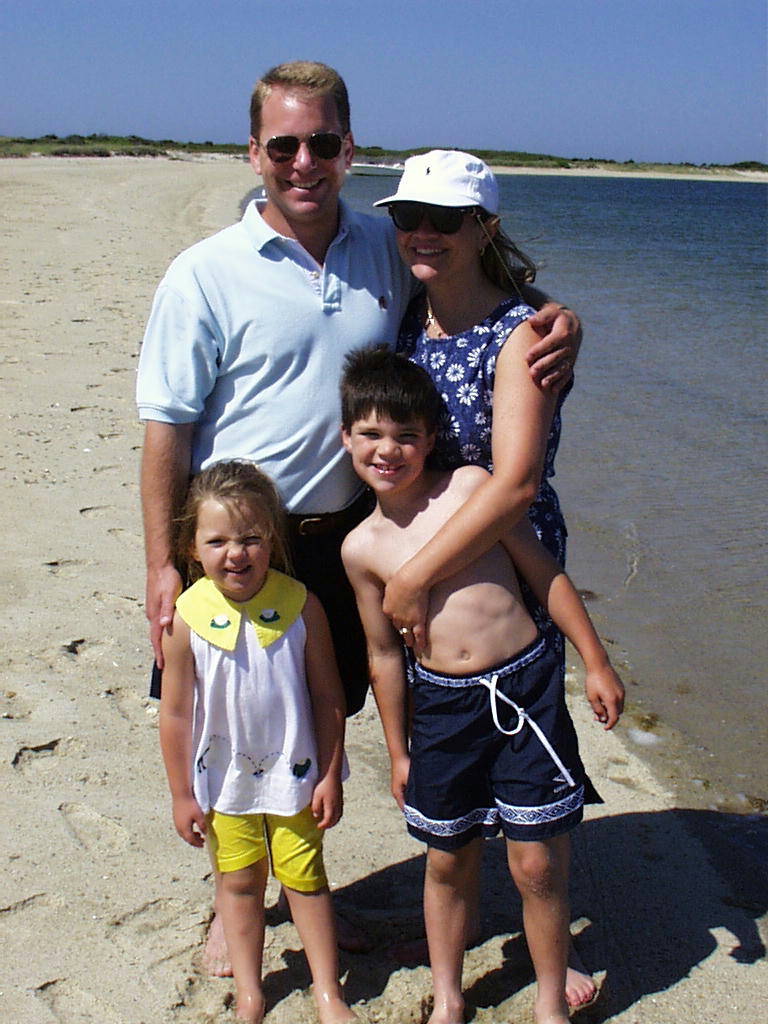 Bob and Karen Peter, Susan, Katie, and Christopher
We stayed in Scott's cousin Irene's beautiful "upside down" house on the island. It is called upside down because the living quarters are on the second floor, and the bedrooms are on the first floor. This gives you excellent views in the rooms where you spend most of your time.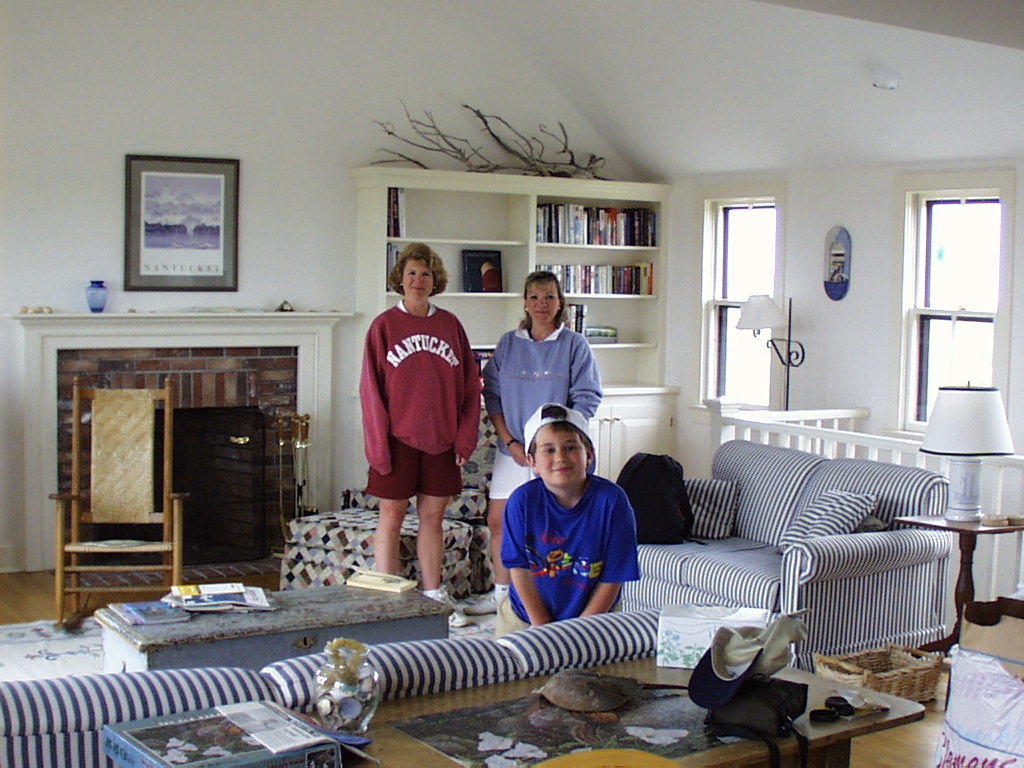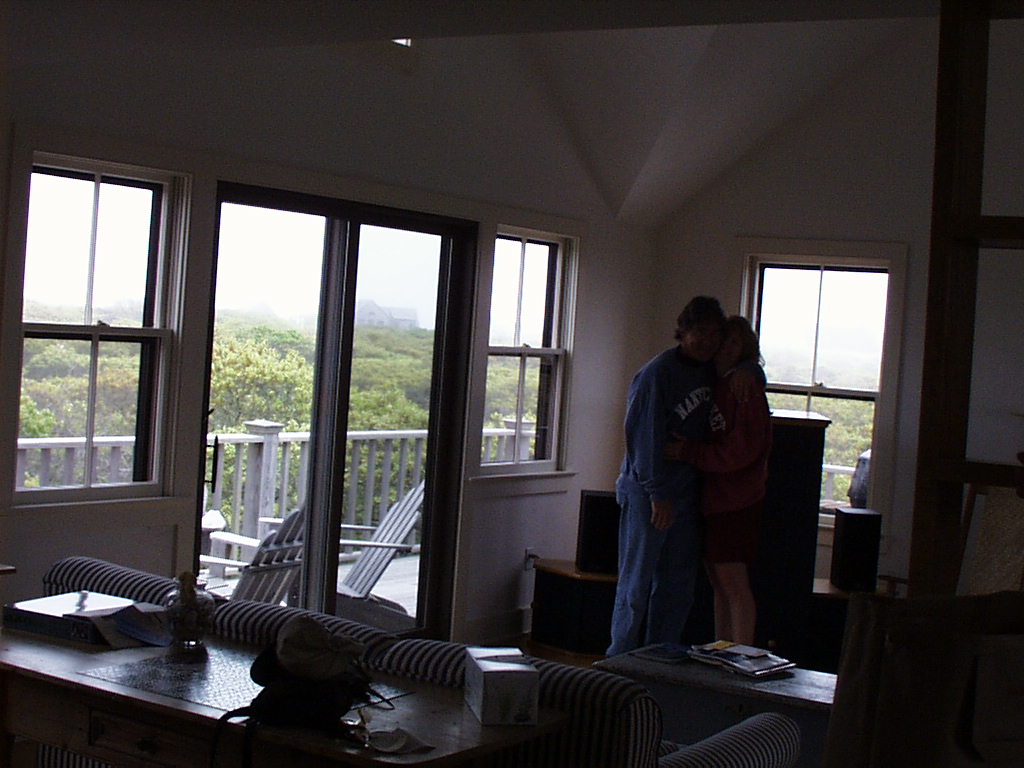 The kids enjoyed the "clubhouse loft" on the third floor, and the adults loved the cool breezes on the deck – "floating in the trees on the forest moon of Endor" as Scott dubbed the feeling you got staying there.
In June, we celebrated Stuart's 9th birthday with a fun-filled pool party attended by his Montgomery School classmates and friends.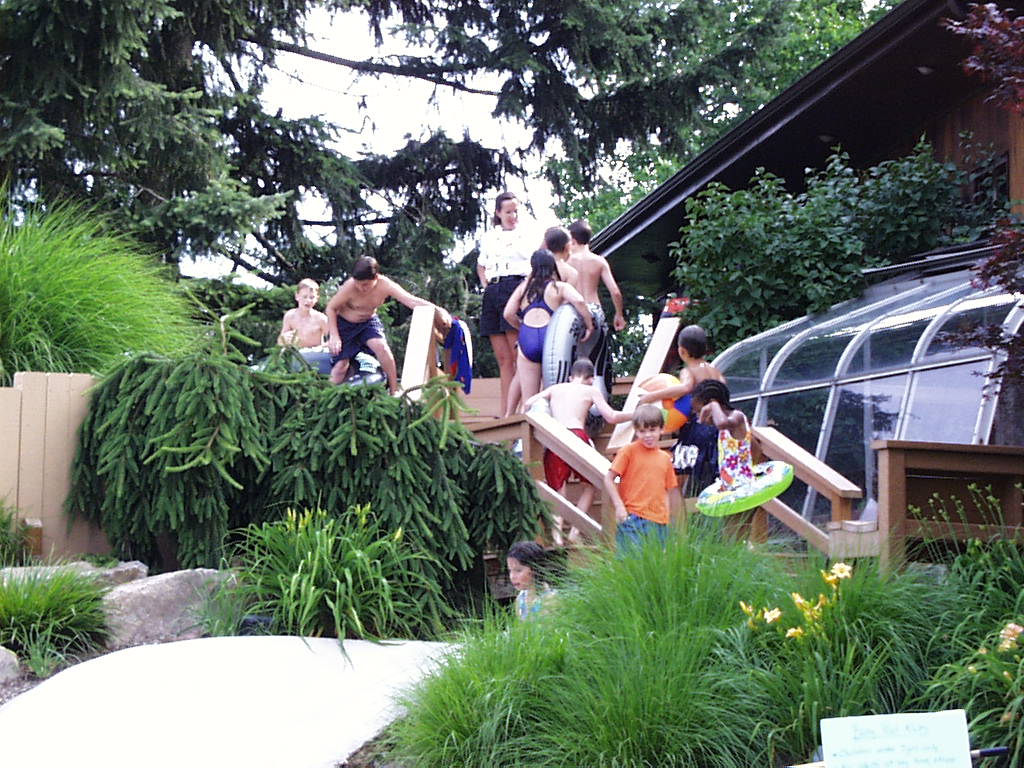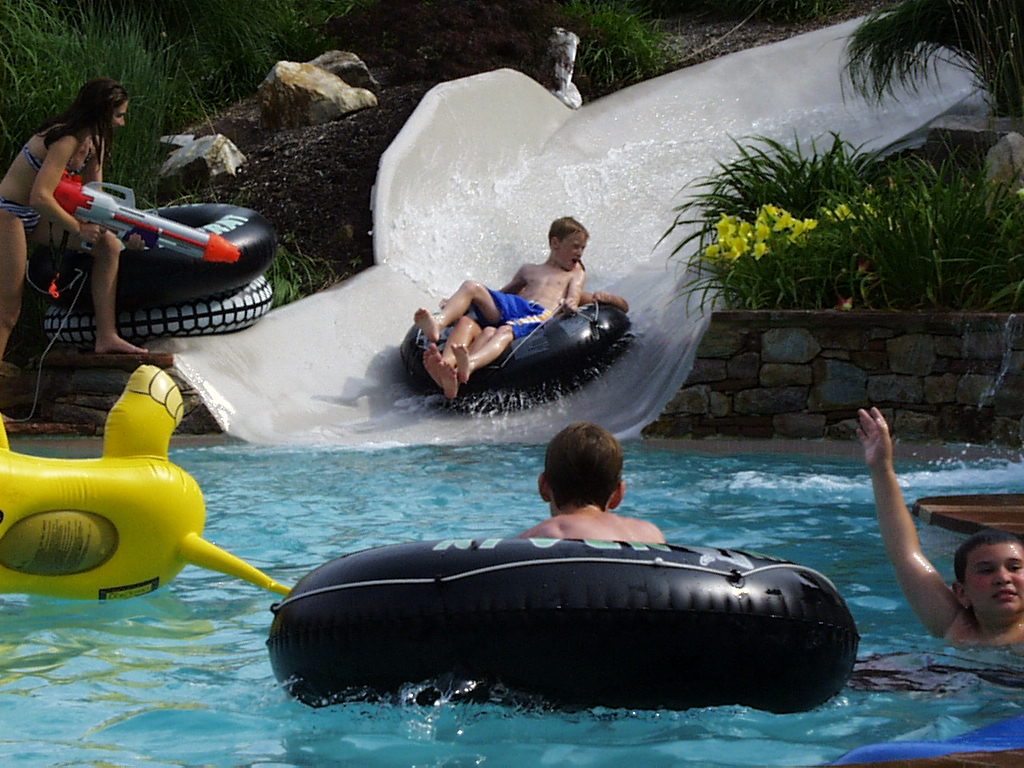 Stuart got a super soaker 2500 as one of his gifts, which friend Melissa Klink is demonstrating here. Note there are two boys on the tube on the slide above.
In mid-July, Scott and Stuart went on their first overnight camping trip at a real Boy Scout camp.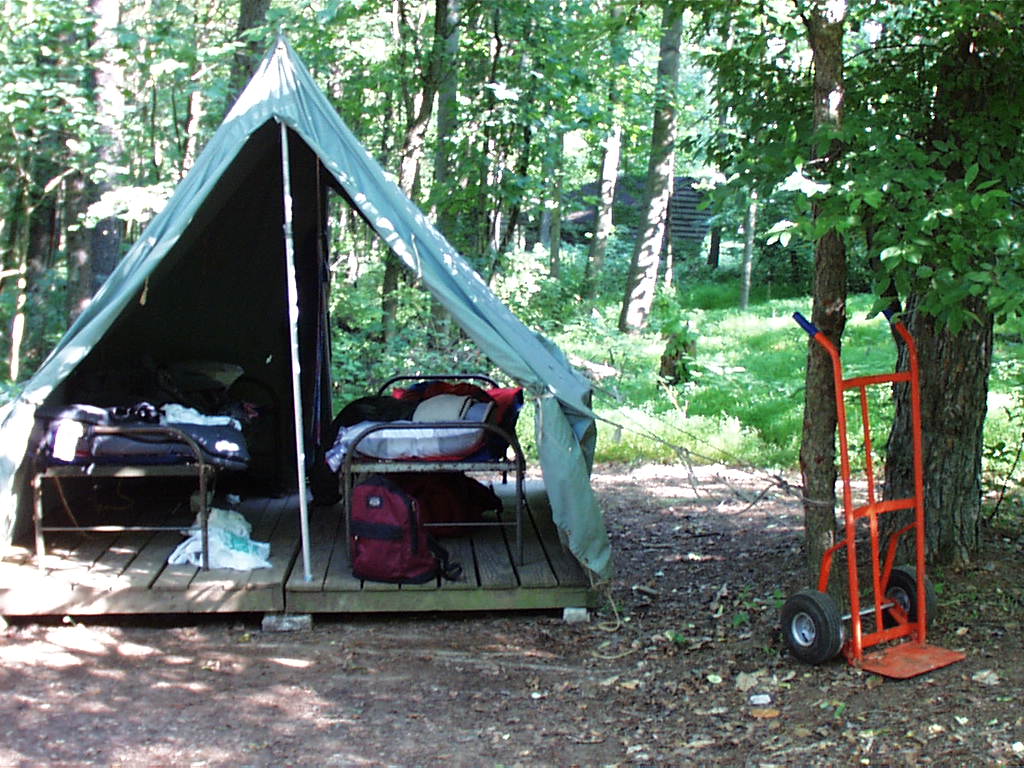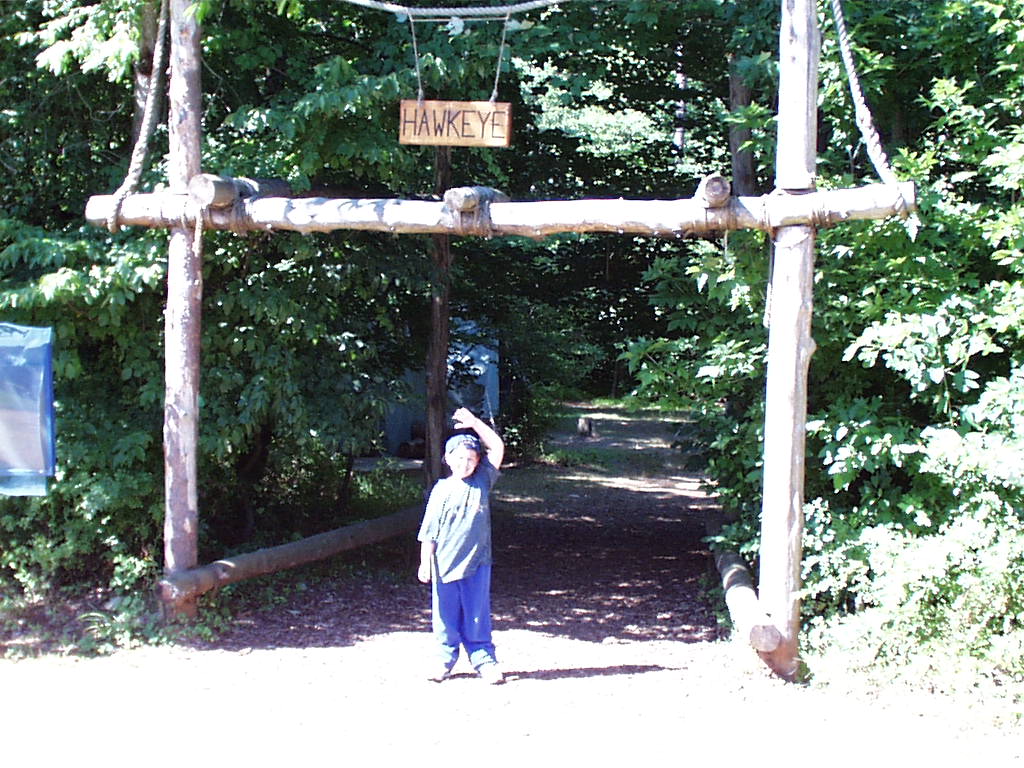 Stuart's favorite parts of the trip were the campfire, which featured authentic scout leader entertainment (ask Stuart to tell you the Fifi Dog skit,) and the swimming pool.
At the end of July, Bentley Systems dedicated the new Thomas P. Bentley building. Most of our relatives were there, so we had quite a family reunion. This included the biggest pool party we've thrown at our house, followed by an afternoon of volleyball games, tugs of war, dancing, a barbeque, and a bonfire at brother Greg's house. The family tree tee shirts Susan designed were a big hit.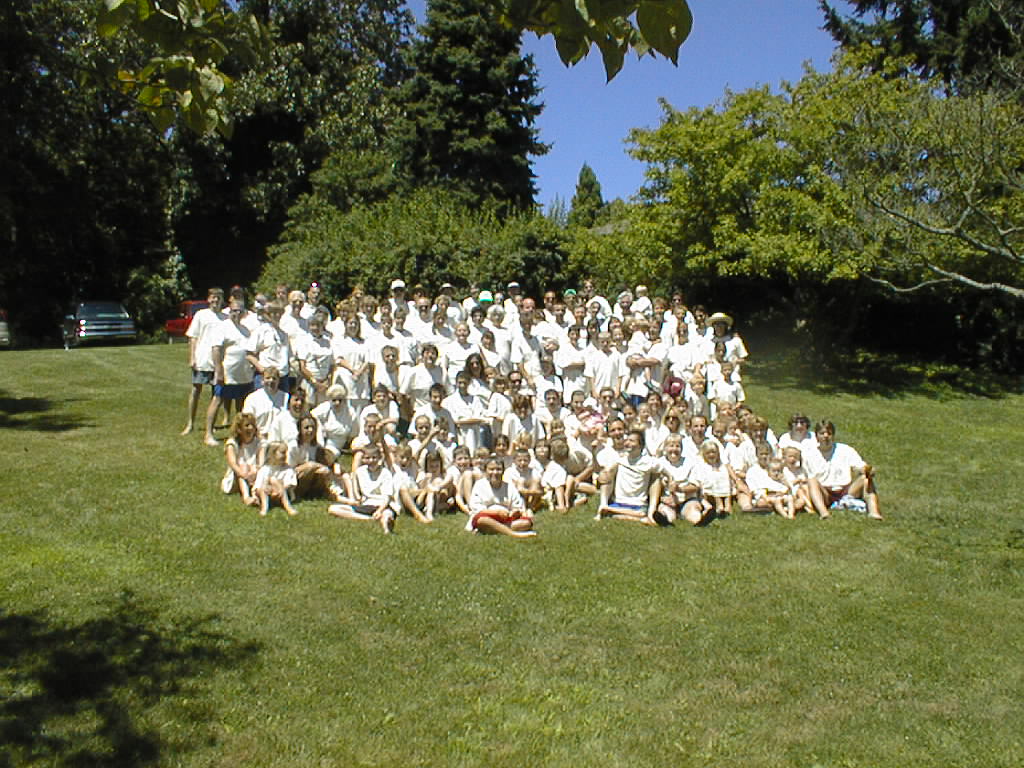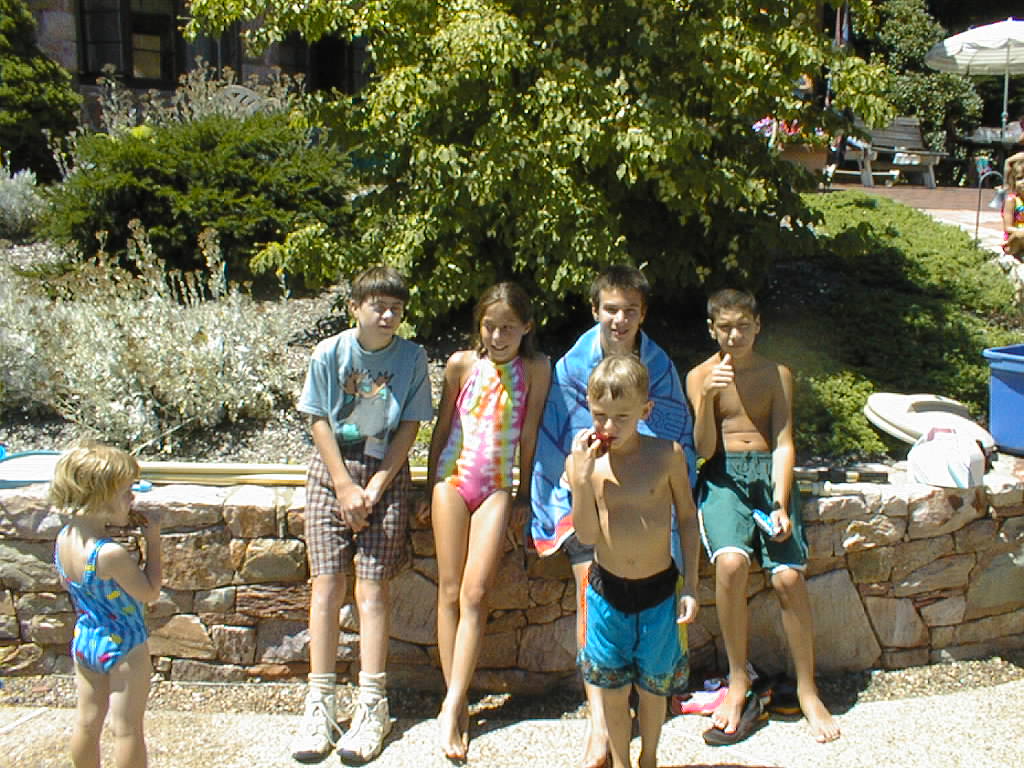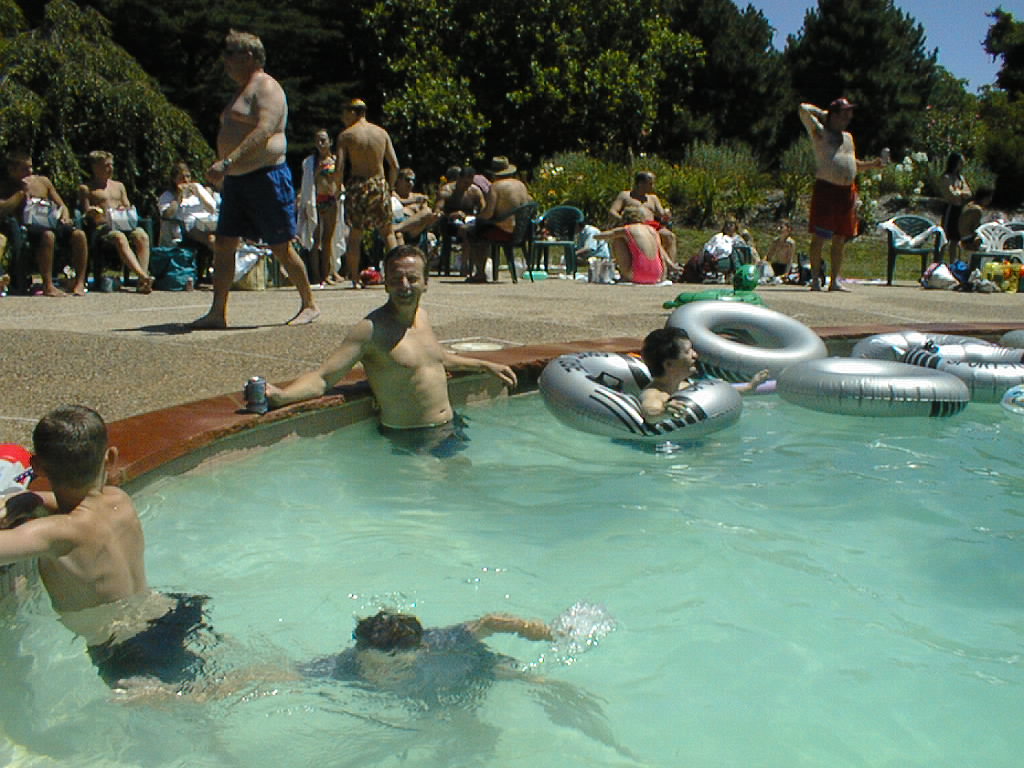 A hilight in August was the wedding of Diane Rotondo to John Notorangelo (both of whom work at Bentley.)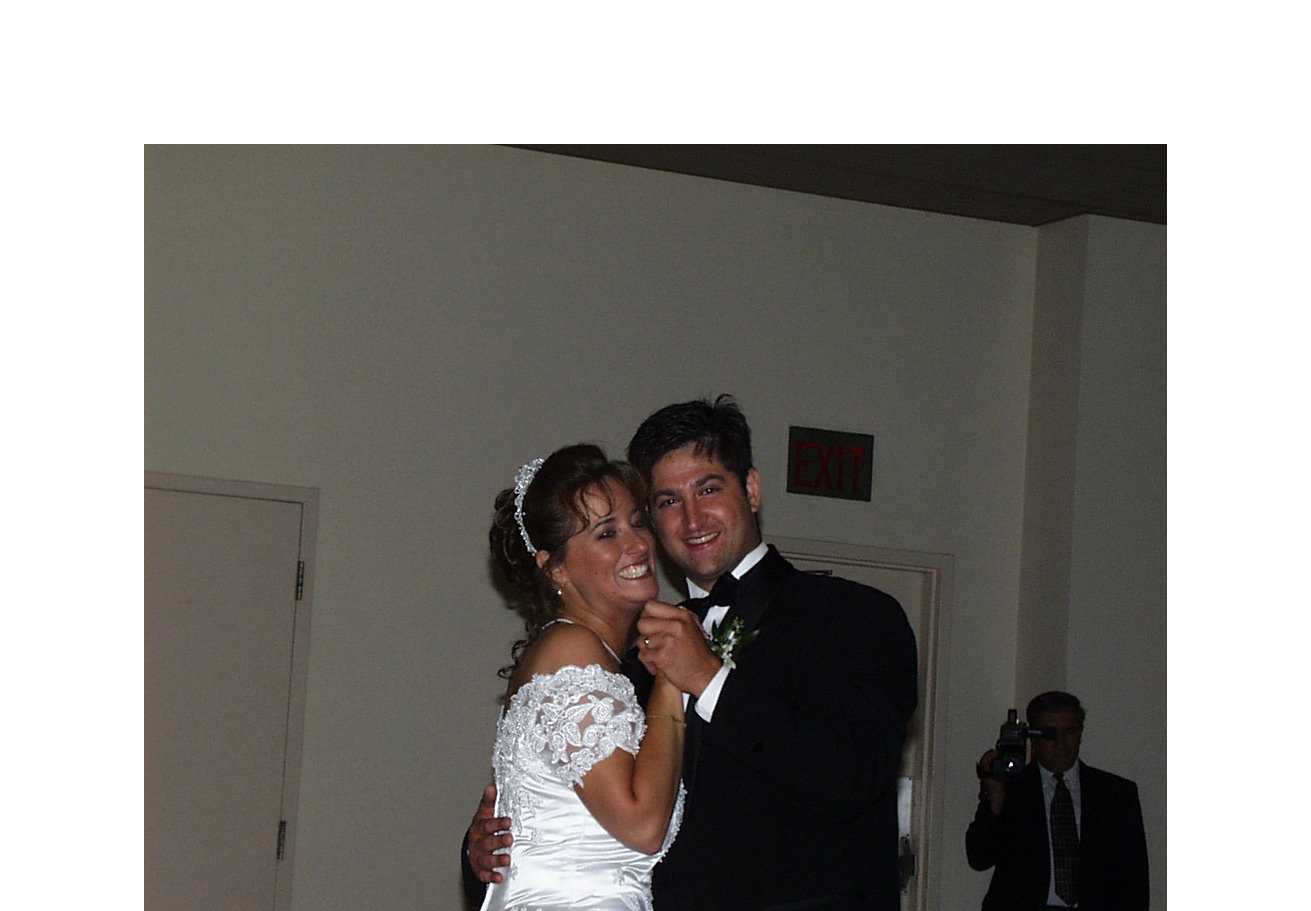 After the reunion, Susan and Stuart visited Susan's sister Jane in Boston for a week. Later in August the Schultzes invited us to a very fun weekend at Susan's parents' place in Rock Hall, MD. We had quite the aquatic weekend, with sailboat rides, motorboat rides, and extremely brief attempts by Stuart and Scott at water-skiing. We thought we had pictures, but can't seem to find them.
Early in September, Scott and Doug Lack flew Scott's Mark III past Harrisburg on his longest cross-country yet – The Shreveport North fly-in. Scott's plane is the foreground: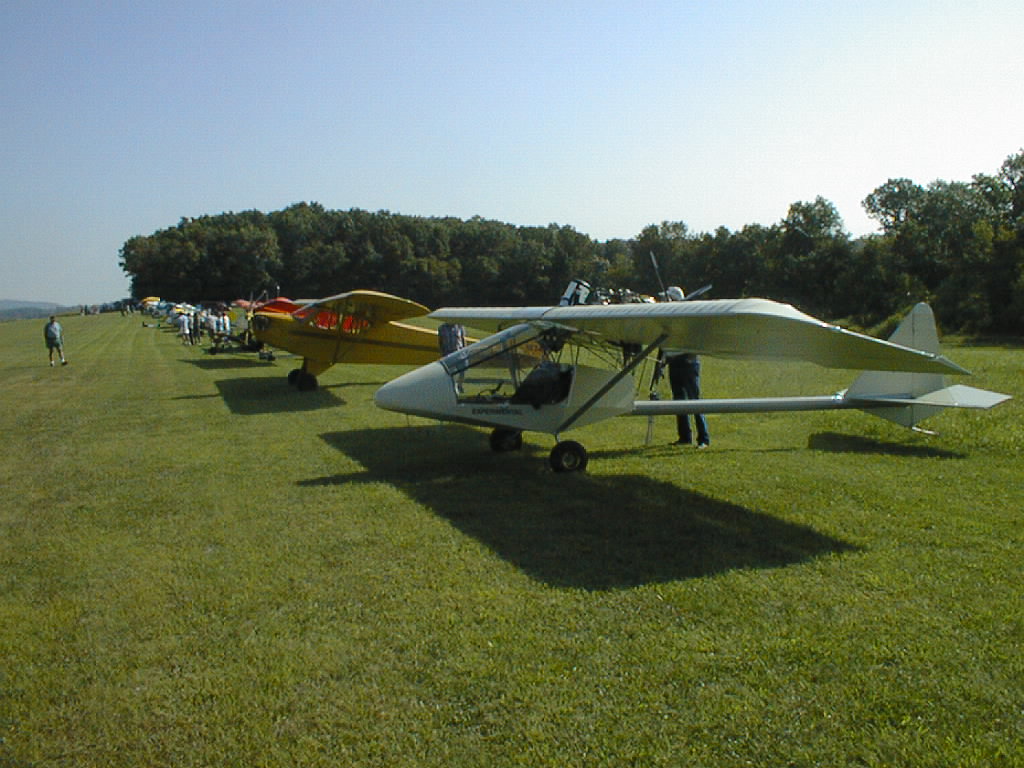 Early in September, Susan, Stuart, and some friends went to see the Nicholaus and Alexander exhibit in Wilmington. Many of the objects from the collection had never been seen outside of Russia before. The exhibit was at the beautiful new Riverfront Arts Center, and featured over 20 galleries depicting the life and times of the last czar of Russia. Susan's favorite articles were the gilded scarlet coronation coach of Catherine the Great, and the Faberge miniatures of the Russian crown jewels.
Stuart started at a new school in September, the nearby Warwick school (the local public school.) Stuart likes his new teacher, Mr. Zurga. He has a good sense of humor – once he dropped a raw egg on the floor as part of a science experiment. He also lets the students sit on their desks, and he once dramatically broke a ruler demonstrating pressure.
In mid September, Scott took a trip to Mexico to speak at a trade show, stopping in Florida to speak at a users group meeting on the way down. While in Mexico he climbed the Teotehachaun pyramids outside Mexico City with Charley Ferrucci, Doug Lack, Bill Bentley, and Stephanie Mendoza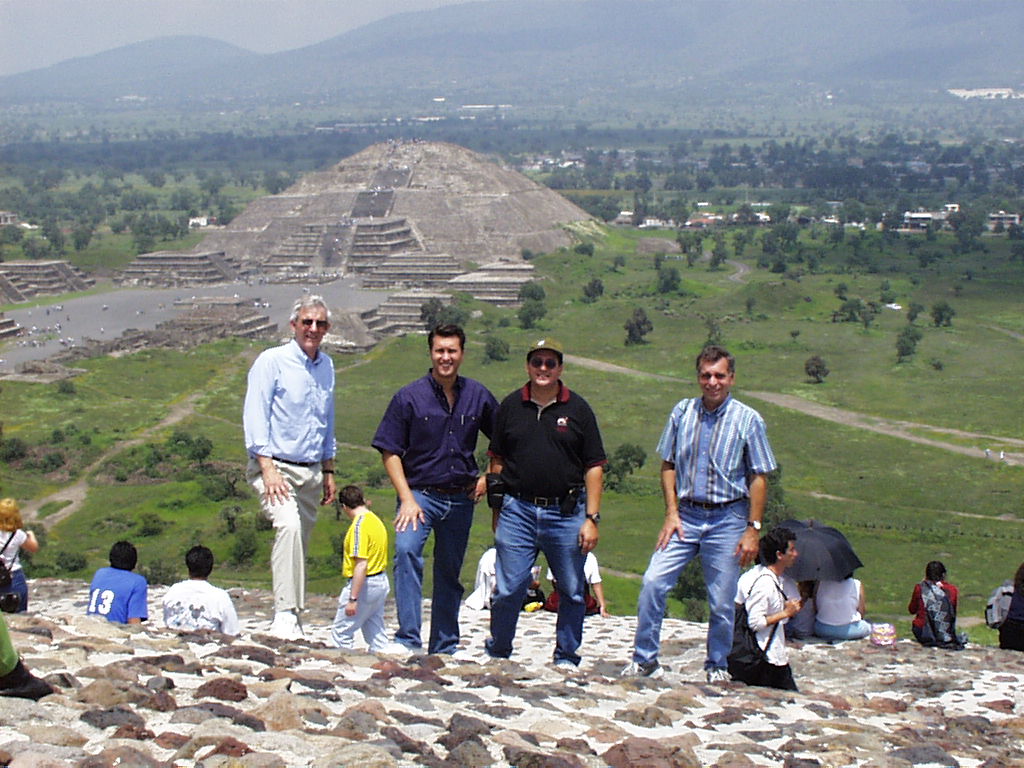 Later that month, we took a trip to the Vermont cabins that the Ferruccis (Charley and Mary) own with Charley's parents. We once more (perhaps for the last time) rented the Navajo, and pilot Bob treated everyone to a one-day tour of the nearby sections of Canada, Burlington Vermont, and an aerial view of the Ferrucci complex.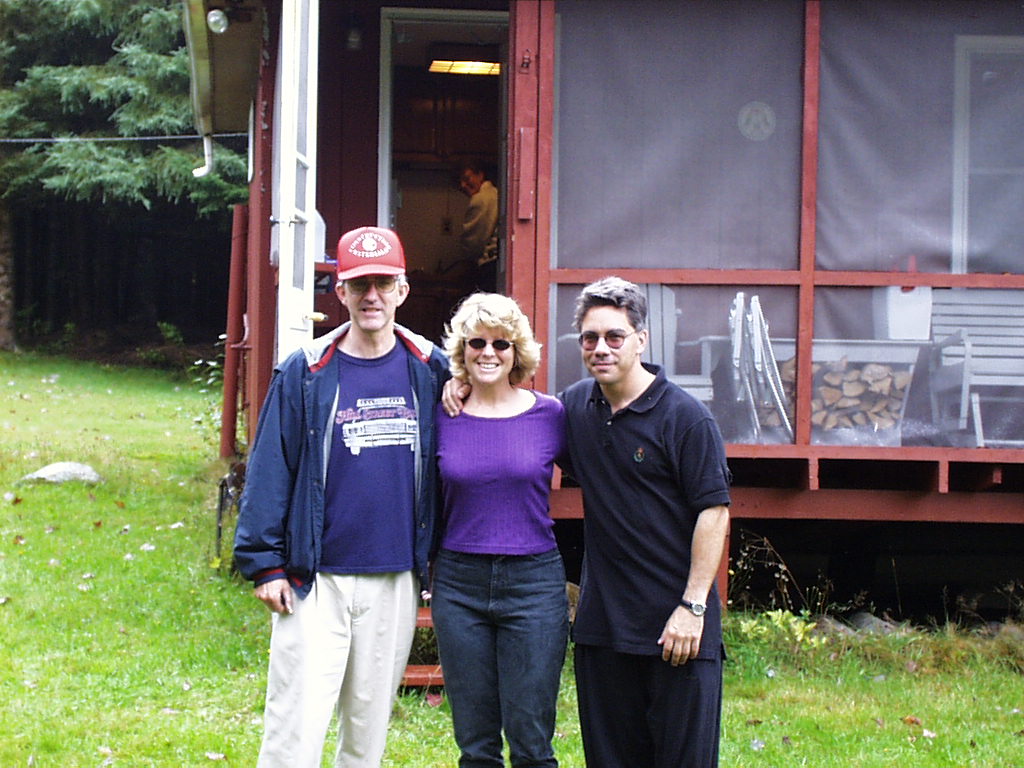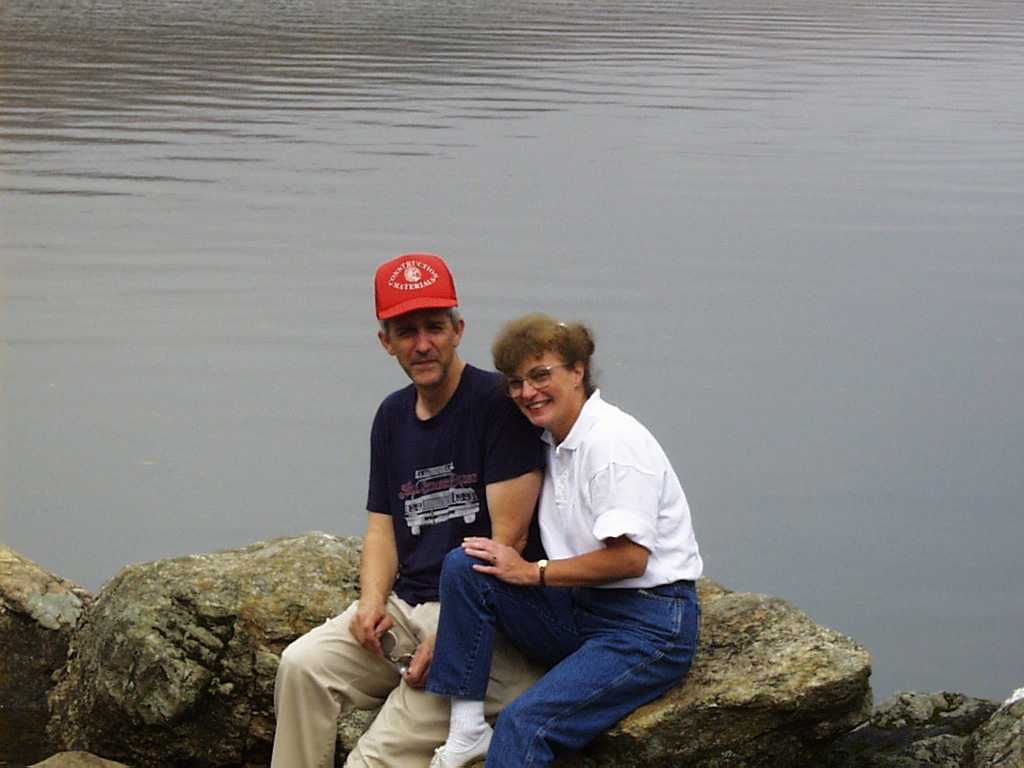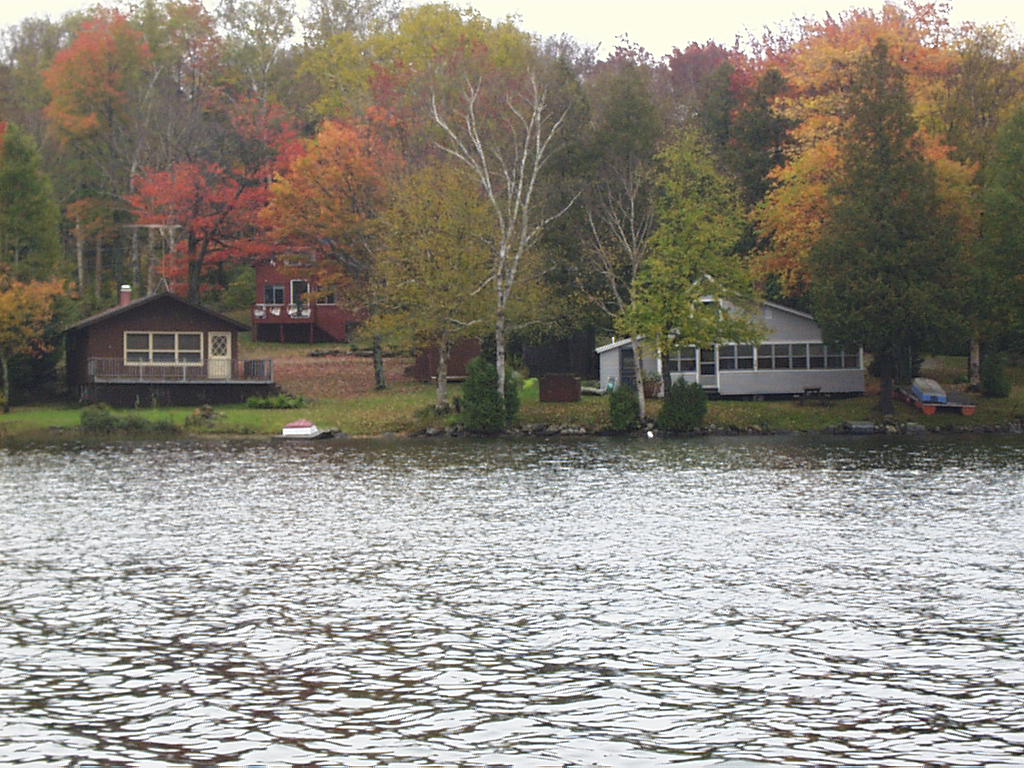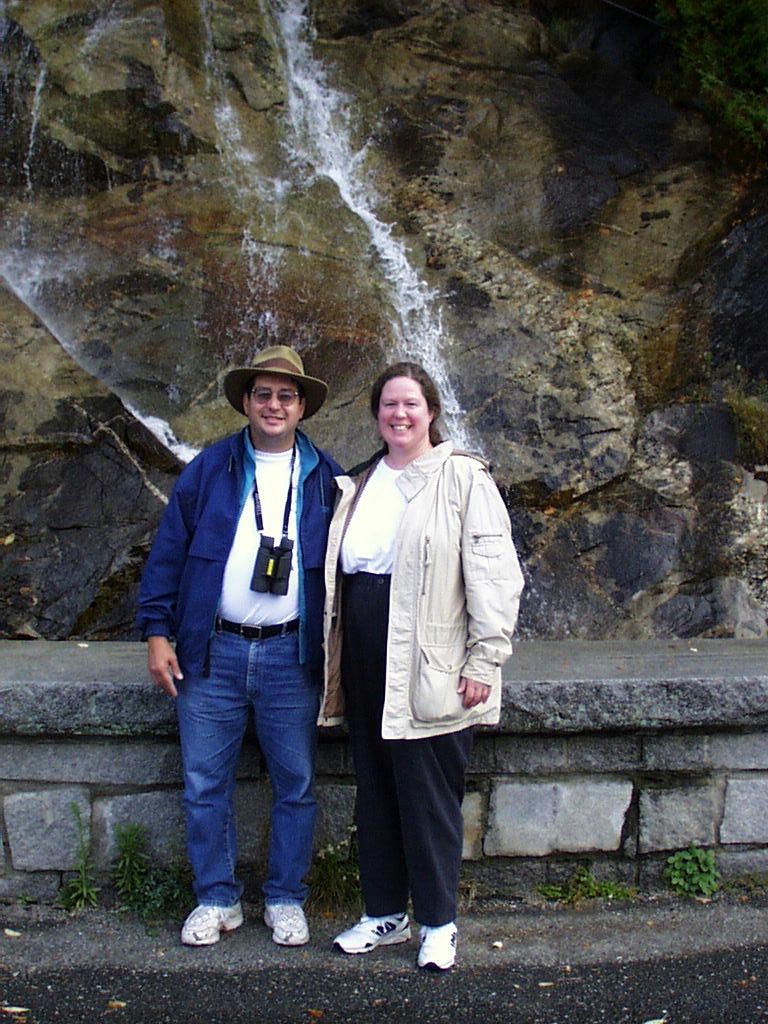 After returning from all this traveling (and some unhealthy activities in Mexico involving lots of alcohol, strange food, and not enough sleep,) Scott spent the next few months battling some kind of strange illness involving high blood pressure and Meniere's syndrome (an inner ear problem.) While he's still not 100%, a low-sodium (and generally healthier) diet and regular exercise seems to help considerably.
In October, Susan bravely volunteered to lead Stuart's Cub Scout den when the previous leader moved from the area. She went away for two different all-day training events and did well in each area except firebuilding and knot tying (things Scott does well anyway.) Her group of den mothers called themselves the "Giraffes", since they were all rather tall. The Giraffes developed the best cheers and were voted the patrol with the most spirit. Den Five has done more craft projects than any other Webelos den in our pack, and Susan has had quite a lot of fun thinking up different meeting topics.
In November, Susan and Stuart did their last Disney trip of the year, along with Susan's mom, sister Jacqueline and brother-in-law Ken, and their children Kelsey and Justin. Hilights for Stuart were a day at DisneyQuest, the new hi-tech theme park in "Downtown Disney," and riding Buzz Lightyear's Space Ranger Spin. Justin and Kelsey enjoyed everything, but especially Big Thunder Mountain and Splash Mountain.
Then, Scott and Susan took their annual anniversary trip, this time to Montreal (we've been married 11 years now.) We left on Thanksgiving, and stayed in a hotel with a rooftop outdoor pool that is operated year-round! We enjoyed touring in the "Old Montreal" section our first day there.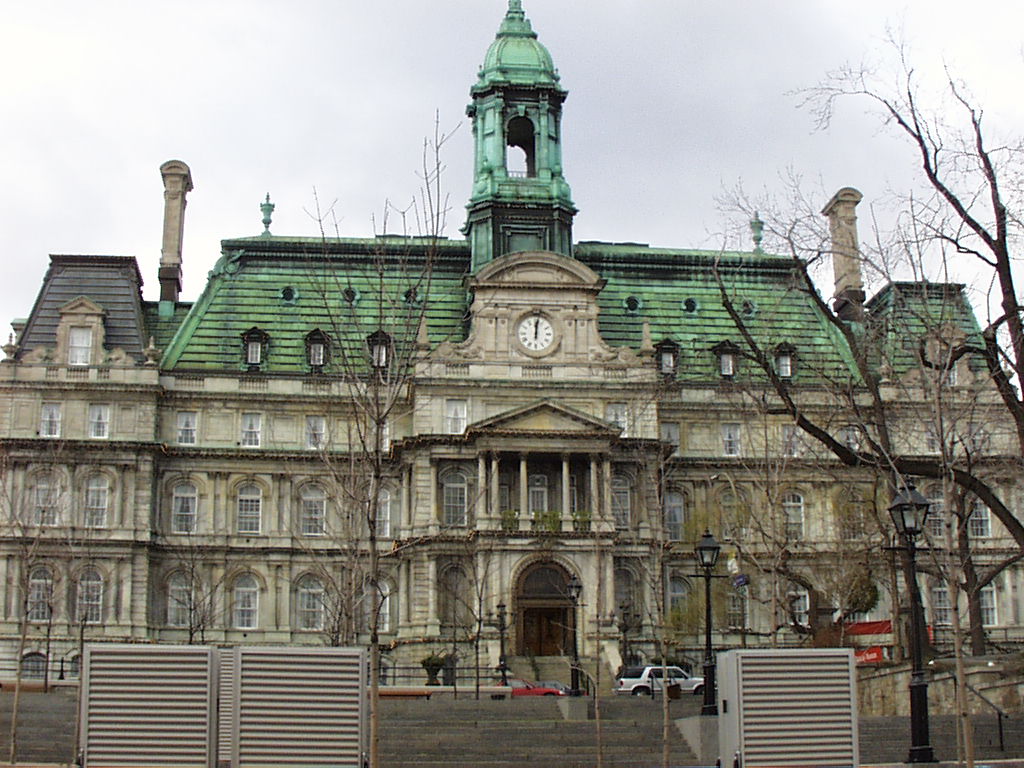 The second day we went to the Olympic Park complex. The Olympic Park includes a cool museum, called the Biodome, which has different habitats from around the world, where plants and animals are displayed together. Susan's favorite was the beautiful, very-humid tropical rainforest; Scott thought the penguins were funny as they waddled clumsily on the ice.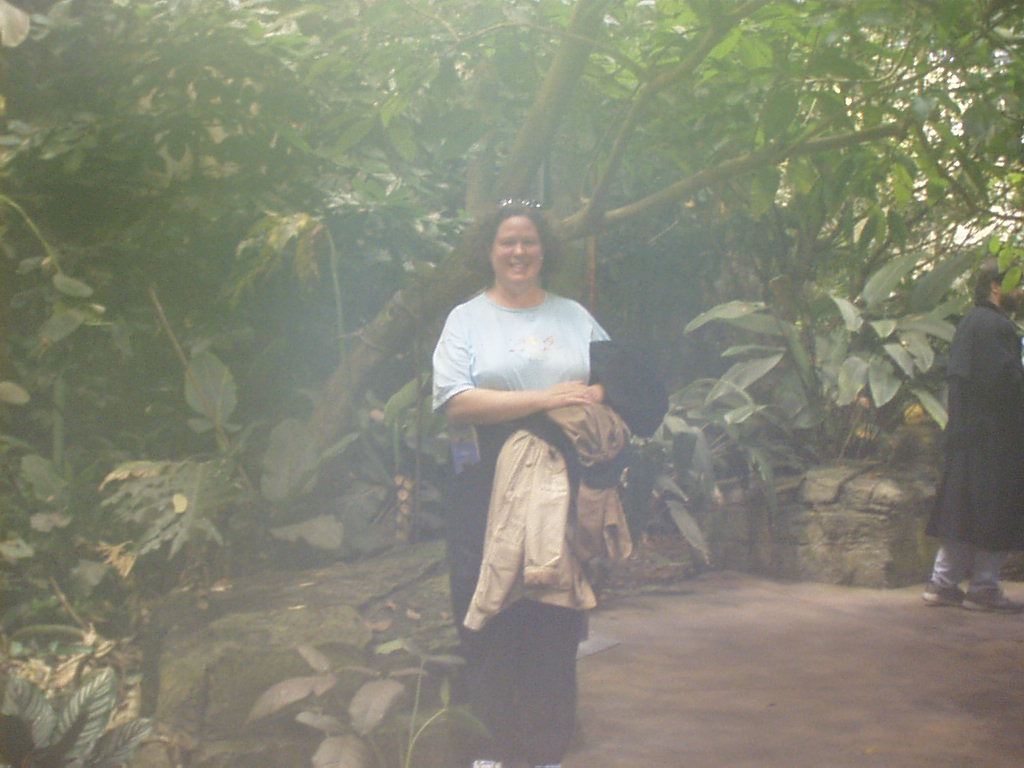 There was also a 575 foot observation tower with a funicular (exterior elevator) to the top. This gave us a panoramic view of the city of Montreal.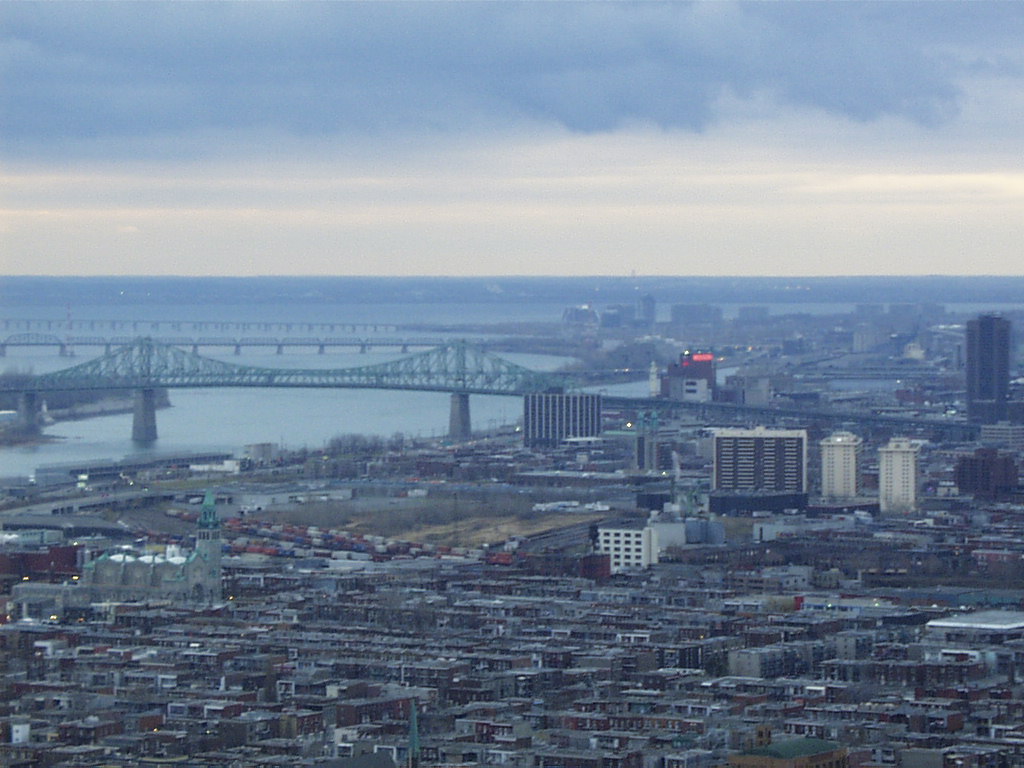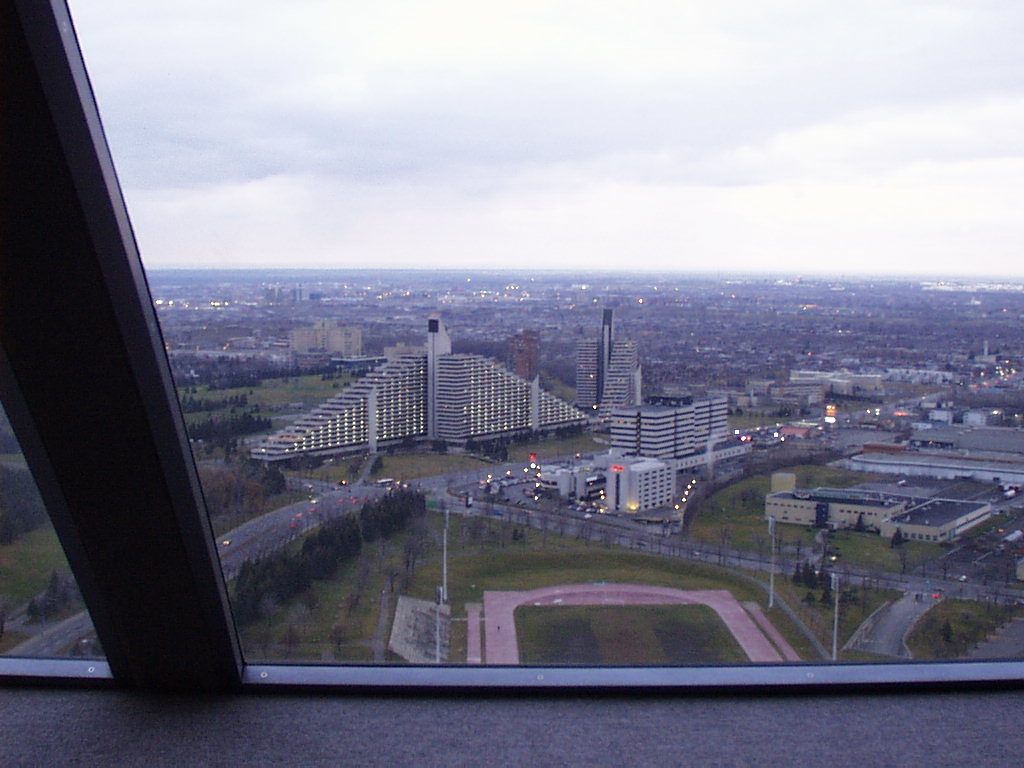 The last museum we visited was the Insectarium. This had lots of creepy displays of living and dead insects. Scott thought it was definitely one of the most interesting parts of Montreal.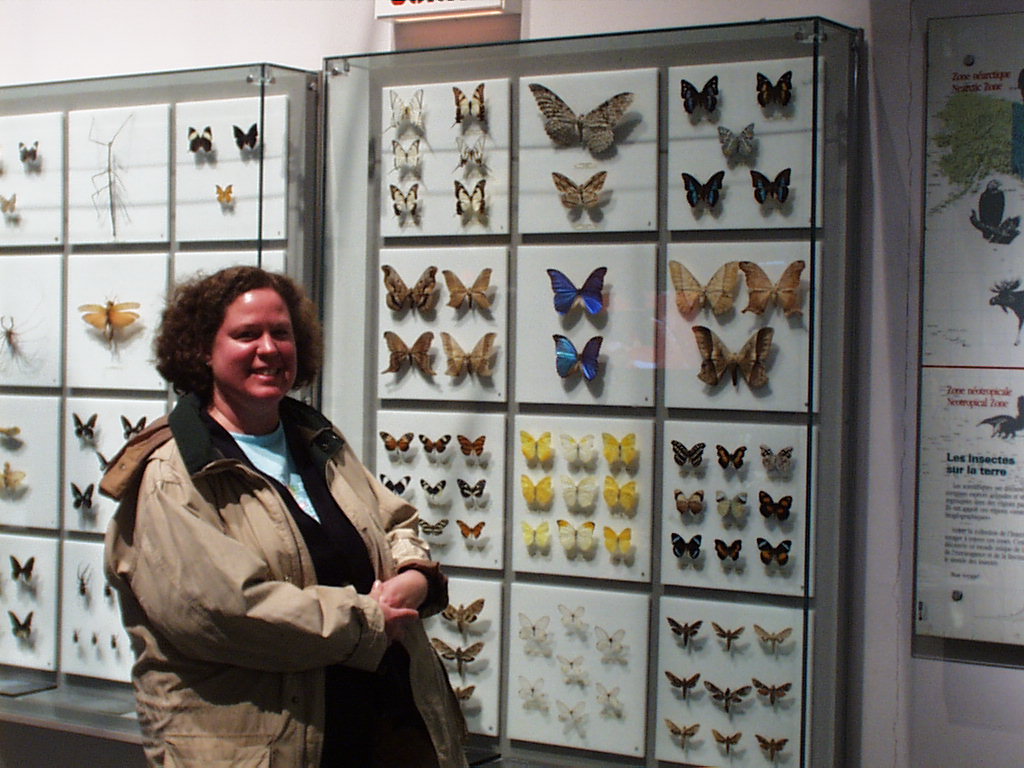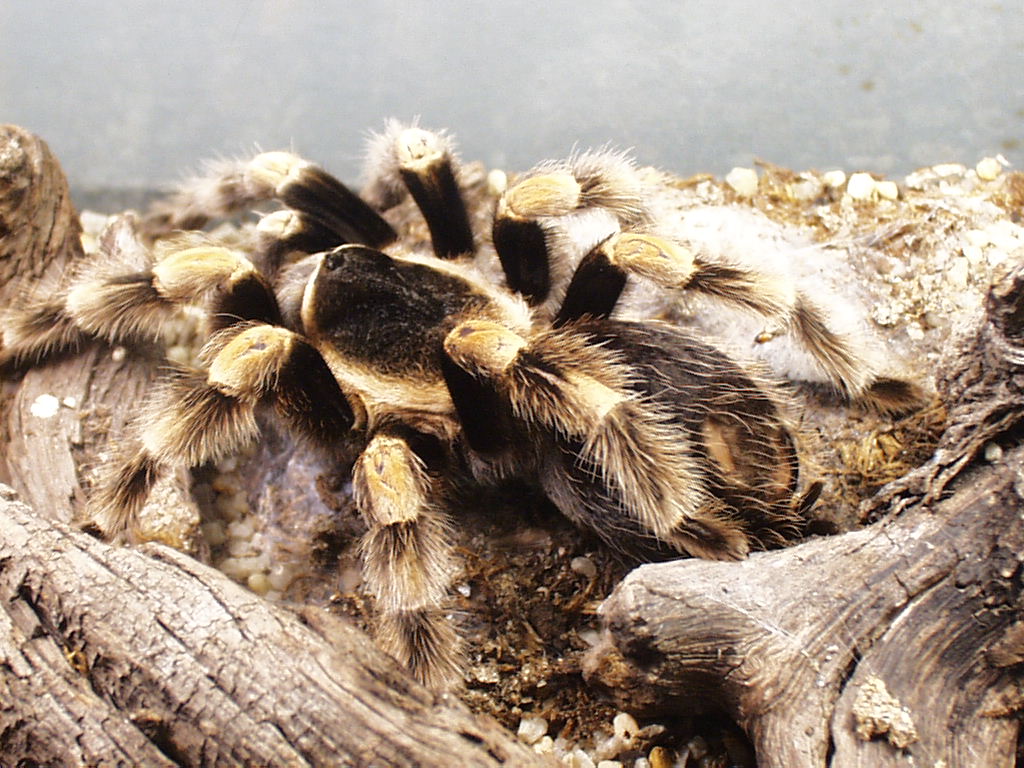 In early December, Scott finally got a chance to use the cheap weekend "Internet fares" that the airlines email about weekly if you sign up on their web sites. He had an opportunity to check out a company that is looking for investors. They have a modern version of the classic Biplane from the late 30s and 40s – the Staggerwing Beech. This fiberglass kitplane was designed with the help of MicroStation. It uses 450 horsepower Pratt and Whitney R-985 radial engine. Scott enlisted the help of Pilot Bob, and we flew to Nashville for $99 roundtrip and drove to Huntsville. Bob flew the plane and declared it to have very nice slow speed characteristics (and a too-sensitive rudder, a complaint that was also the only negative in other reviews.) Scott got a chance to fly it a bit at altitude. Both Bob and Scott took lots of pictures, of course.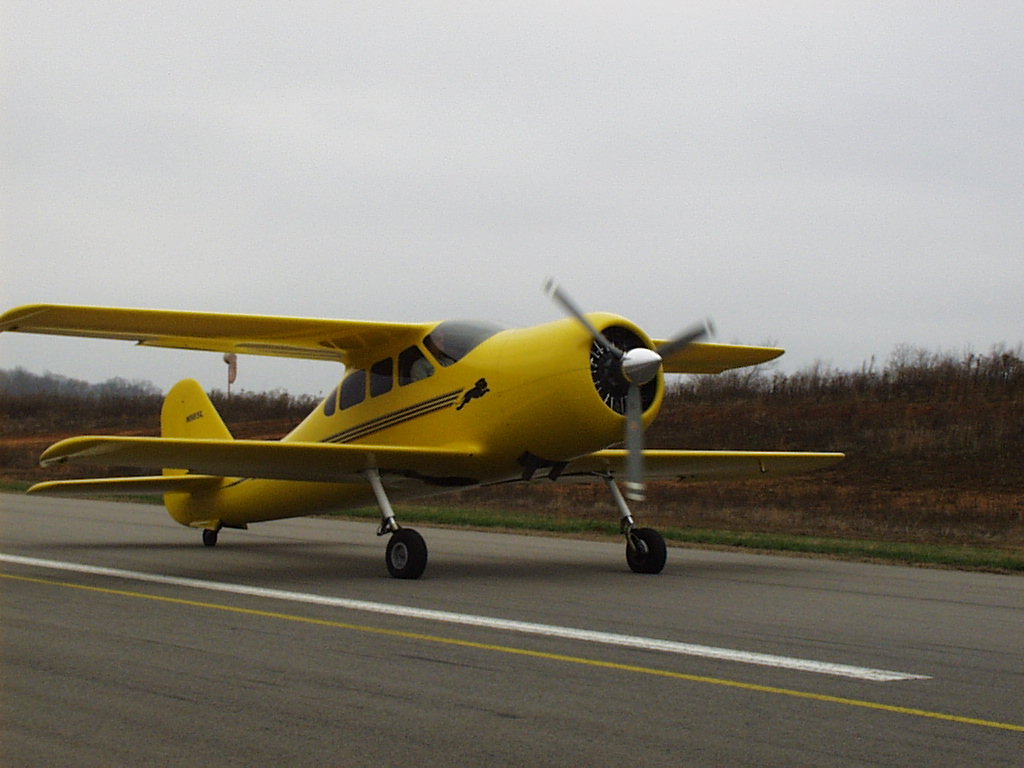 Scott attempts to taxi the Lionheart (it should be over the white line.)
Stuart's school Christmas recital was charming, heartwarming, and mercifully short. Stuart is the one in red in front of the flag.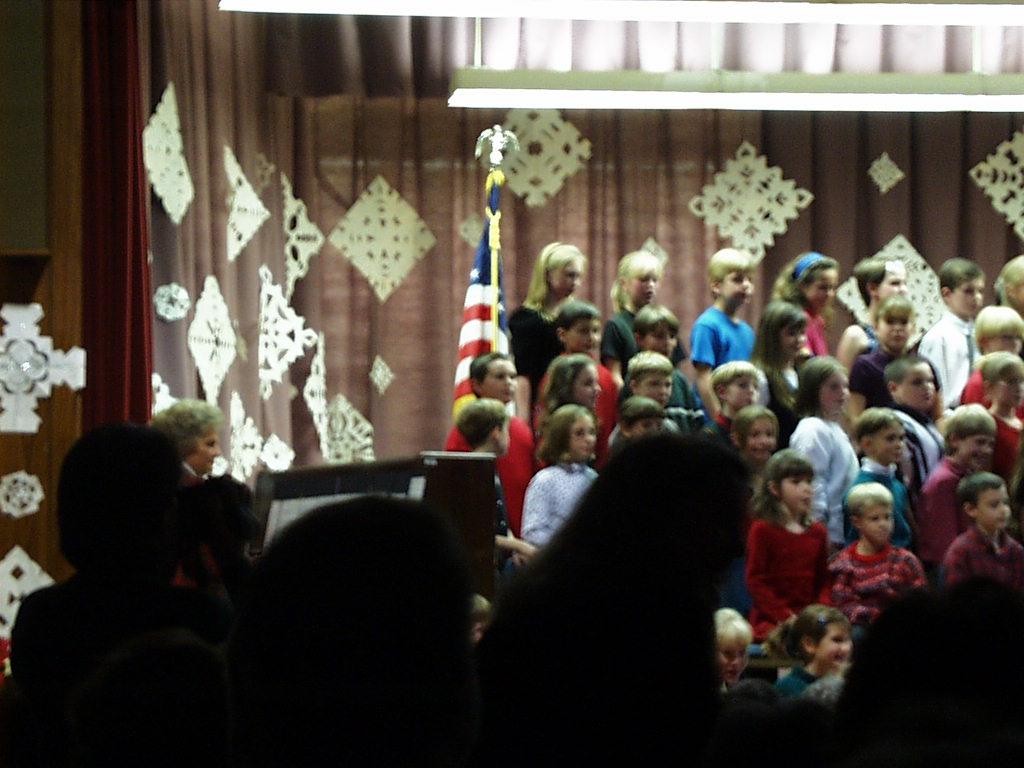 We ended the year on a sad note with the death on December 29th of Scott's Uncle Tom Leary (his mother's sister Peggy's husband.) Scott and Susan accompanied Scott's mom to the funeral on New Year's Eve, and the reception afterwards. We also had time to stop for a brief visit at Aunt Peggy's house, where we remembered the fun we all had the last time we were together at the summer reunion. It was a sad, but timely reminder of how precious life is, and how cherished is our time spent with ones we love.
There was a montage of photos at the reception. Susan noticed Scott's dad in the center of this picture, playing cards with all the uncles some years ago.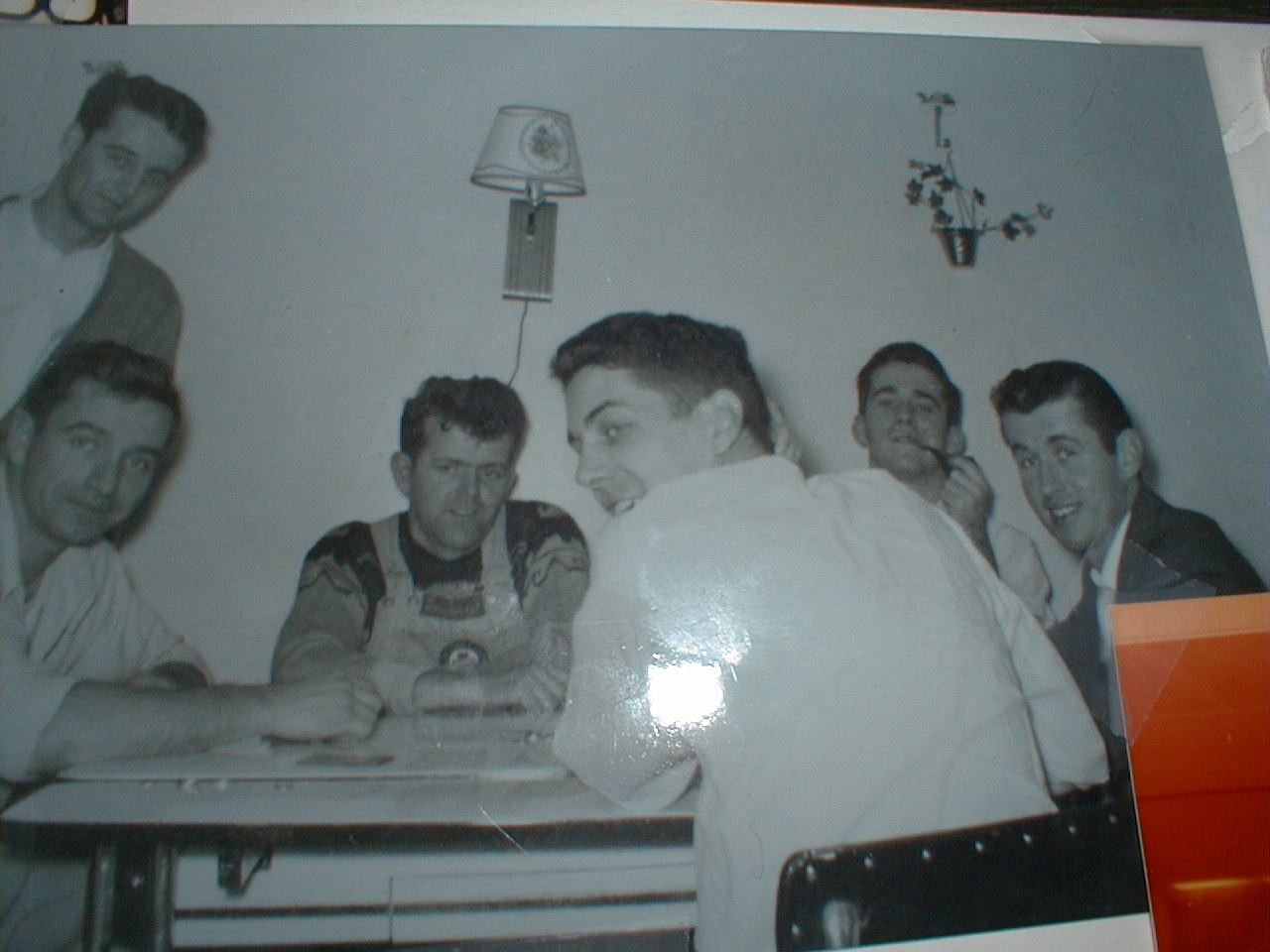 We hope 1998 was a great year for all of you, and we wish you health, happiness, and good fortune in 1999.